Jurassic World: Dominion Dominates Fandom Wikis - The Loop
Play Sound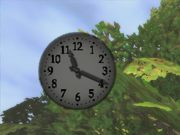 The Clock is located on the top-left of the screen. It makes its first appearance during the mission "Get To Class", which follows This Is Your School. Each in game minute is the equivalent to one second in real life, and in missions, every three seconds is equivalent to one in game minute.
The clock is particularly useful in telling the time with relation to Jimmy's attendance at school. After waking at 8 a.m., there are two classes to attend each day; morning class starts at 9 a.m., while afternoon class starts at 1 p.m.. Jimmy has the period from 11:30 a.m. until 1 p.m. free to roam the town, as well as after class finishes at 3:30 p.m..
Nighttime starts at 7 p.m.; after this point, although the Main Building is still accessible, it is considered to be out of bounds to students, and prefects and teachers alike will patrol the building looking for trespassers, sending Jimmy to his room at the dorm if he is caught. While Jimmy is free to wander the school grounds and town at any time during the day, curfew begins at 11 p.m.. Shops close at this point and the police begin to patrol the streets with torches, while prefects patrol the school grounds. Jimmy's Trouble Meter will always be in the full yellow point outside his dorm by that point. If Jimmy is caught, he is sent back to his room.
Jimmy automatically passes out wherever he is standing if the clock hits 2 a.m., waking up outside his dorm at 8 a.m. the following morning and automatically failing whatever task he was doing before that point.
The clock will disappear from the screen during the tutorial errand and the missions Christmas is Here, The Tenements, Halloween, Complete Mayhem and the final fight of each chapter, freezing the in-game time. It will also be disabled for detention, Go-Kart races, and bike races.