Jurassic World: Dominion Dominates Fandom Wikis - The Loop
Play Sound
"I haven't told on anyone yet today!"
— Sheldon
Sheldon Thompson is a character in Bully and is a young Non-Clique Student at Bullworth Academy. He was voiced by John Magaro.
Character description
[
]

Sheldon is a little black boy with short black hair. He wears a dark green Bullworth sweater vest over a white shirt. He speaks in a high-pitched voice. In the winter, he wears a green school sweater, brown gloves, and a yellow striped urban hat. There is a version of Sheldon wearing pajamas in the game data files, but, like Pedro, Sheldon generally does not appear in the Boys' Dorm because the developers removed their ability to do so.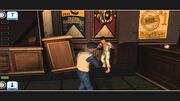 Characteristics
[
]
Sheldon is a teacher's pet to the extreme. He stays behind class to talk to teachers and does extra homework. He thinks that both Dr. Crabblesnitch and Mr. Hattrick are his friends, but they both find him to be annoying, to which he is oblivious. He also has a crush on Miss Danvers. Sheldon is a target for many of the pranks at school by Bullies, as he mentions he has been locked in closets, has had mashed potatoes put in his shoes, and been given wedgies a lot. He wants to be a teacher.
Sheldon seems to honestly want friends and to be oblivious to the fact that his annoying, bratty personality is why he doesn't have them. Like the other little kids and Constantinos in the school, Sheldon will snitch on Jimmy and other students if they cause trouble. He even threatens to snitch after he has been beaten up and while he's fighting someone.
Like all other little kids, Sheldon will crouch when danger is near and usually run, you can see him cry and run down past the boys' dorm and the Front Office.
He shares a surname with Ted Thompson, but there's no evidence that they are related.
Role in game
[
]
Sheldon gives Jimmy two errands during the course of the game. One is to pull the fire alarm to get a friend out of class, and the other is to throw a firecracker down a toilet.
He also appears in the Scholarship Edition exclusive mission Rudy the Red Nosed Santa as one of the Generic Kids. In this appearance, he talks with a stereotypical babyish -th lisp and is sulky and morose, talking about how he hates Christmas.
He originally appeared in the beta version of Complete Mayhem, where he and Pedro were supposed to be taking a walk around Blue Skies Industrial Park, only to be scared off by Russell later on.
Trivia
[
]
Gallery
[
]