Jurassic World: Dominion Dominates Fandom Wikis - The Loop
Play Sound
The Townsfolk are the people native to Bullworth.
Description
[
]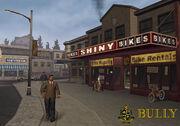 The Townsfolk are adults native to Bullworth. They are divided into three different subgroups, although the subgroups get along with each other, unlike the student cliques. There are the wealthy residents of Old Bullworth Vale, the impoverished residents of New Coventry, and the blue collar workers of Blue Skies Industrial Park. The Old Bullworth Vale residents stick to their home area. The New Coventry residents wander into and around Bullworth Town and Old Bullworth Vale after dark, and the Blue Skies Industrial Park residents can also be found in the industrial area in southern New Coventry.
The students at Bullworth and the Preppies would sometimes taunt at the Townsfolk, but the Greasers and Townies will taunt and try to bully residents on their turf. Sometimes adults from Old Bullworth Vale can be found nagging at a student like the teachers can be seen doing.
Townsfolk may be found anywhere except school campus (except in Bullworth Town Bike Race 3), doing just about anything. They drive vehicles, chat with each other and just wander around randomly.
Townsfolk are generally hostile to Jimmy all year round. He may get pleasant reactions from them based on what clothing he's wearing. For example, wearing clothing from the Aquaberry Outlet and having a nice haircut from the Vale Hair Salon will usually get him pleasant reactions from the Old Bullworth Vale residents. Another way is to insult them then apologize so that if Jimmy talks to them again, they will be friendly. Despite normally being hostile to Jimmy, male townsfolk will be friendly to him if he greets them positively. This does not happen with the female Townsfolk, however.
Despite the townsfolk being grown-up, it is possible to scare the male adults to the point where Jimmy can actually humiliate them. This is done by taunting an adult, and saying nothing afterwards, waiting until they walk off. Shove taunt them, and then use an advanced taunt on them. They will get scared, and you may have to taunt them again to be given the option to humiliate the adult. Humiliating them fills the trouble meter to the maximum level. Most adults are given the same humiliations Jimmy gives to the regular older boys. Taller adults such as Mr. Ramirez and the hobos such as Handy are given the humiliations that Jimmy gives to the taller older boys.
Jimmy may break free when they catch him, but it's not easy because they always catch Jimmy when the trouble meter is full, because Jimmy can only break free from the arrest of prefects, townsfolk, Bullworth Academy staff and police officers when the trouble meter is yellow or orange.
Members
[
]